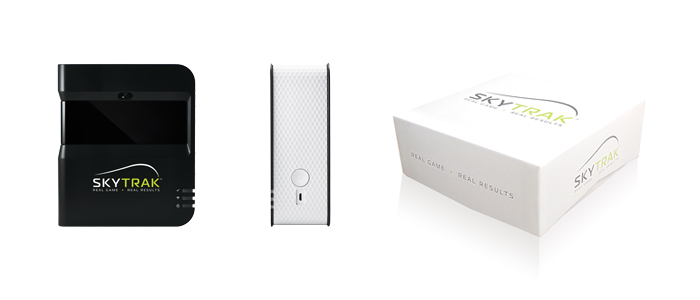 SkyTrak Unit

Photometric launch monitor
Accelerometer-based internal leveling system
No calibration required
Dimensions: 5.75in L x 6.75in H x 2.5in W
Weight – 1.7lbs

Launch Data Accuracy

Ball Speed: 0-200mph +/- 1mph
Launch Angle: 0-55° +/- 1°
Back Spin: 0-12,000rpm +/- 250rpm
Side Spin: 0-4,000rpm +/- 250rpm
Side Angle: 0-20° +/- 2°

In the Box

SkyTrak Unit
SkyTrak Companion App
USB Charging Cable

Power and Battery

Built-in rechargeable lithium-ion battery
Up to 5 hours of continuous use
Micro USB charging cable included

Wireless Connectivity Options

Connects directly to iPad Wi-Fi (NO Internet access in this mode)
Connects to iPad Wi-Fi through router/home network (Internet Access available)

Hardware Compatibility

iOS:

SkyTrak requires 3D graphics support. The following passed compatibility testing:

iPad Air
iPad Air 2
iPad Mini 2 (with Retina Display)
iPad Mini 3
iPad Mini 4
iPad Pro

ANDROID:

The following Android devices have been tested in-house and are officially approved for use with SkyTrak. In general, we have seen best results with newer Android devices containing Octa-core (or dual quad-core) processors. We will continue to test more devices and will update this list accordingly.

Google Pixel C
Samsung Galaxy Tab S3
Samsung Galaxy S6
Samsung Galaxy Tab S2
Samsung Galaxy S8

PC:

Windows 7, 8, or 10
Intel Core 2 Duo @ 2.0GHz or higher
2GB RAM or higher

Third-party golf simulation software requirements vary by provider. Please visit the Simulation pages for more information.